Backpacks for YYC's Homeless: Our 2015 Christmas Charity Event
Our Story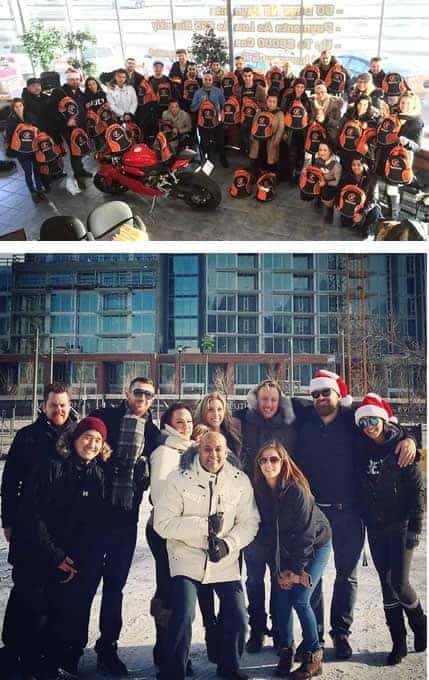 On Sunday, December 13th 2015, our House Of Cars staff headed to downtown Calgary, AB on a mission to hand out 50 backpacks to some of the city's less fortunate. Split up into three teams, our staff hand delivered each bag to the 'lucky' individuals who were picked at complete random. With GoPro cameras on hand, we were able to capture some of the incredible moments/interactions along with some testimonials of those who were willing to share their stories of what everyday life is like for them on the streets, particularly during the Christmas holiday. Meeting all types of people from all areas of life, our staff felt empowered to help make a difference in the lives of complete strangers – even if it meant for just one day.
We headed out to a few big-time retailers to grab 50 of each item for packing our bags. Each backpack was filled with necessity items (along with some extra goodies!) such as:
Travel-Sized Toiletries
Tooth Brushes
Gloves and Toques
Socks
Hand Warmers & Feet Warmers
BandAids
Sanitary Wipes
Tissue Packs
Subway Gift Cards
Cough Drops
Hot Chocolate
Treats/Sweets
…and more!
Along with these items, each staff member wrote out a small note of encouragement to place into the bags, as well. We wanted to add something personal to uplift the spirits of each individual to make their Christmas a little more special. Once we had the backpacks assembled, it was time to hand them out!
A Big Thanks to Our Team!
We are so proud of our House Of Cars family for participating in this event and would like to thank every one of our staff who took their Sunday off work to come out and lend a helping hand! Without you all, this day wouldn't have been possible. Another big thanks goes out to all who were able to help out with the planning of the event and/or the assembling of the backpacks: Justin Klee for organizing the event, Nadeem Malik for your help with providing contacts and for lending a hand shopping for supplies, David Wong for your help in shopping for supplies, as well…and last but not least, Hassen Assaf & Mark Terrio-Cameron for helping put the bags together.
With Christmas just around the corner, it's important for everyone to understand that there are many individuals out there who are struggling and won't have an opportunity to celebrate Christmas with a nice family dinner or a warm place to sleep. If you or someone you know is looking to donate or help out on your own, reach out to one of your city's drop-in centers or check out your local listings for volunteer work…or, do it on your own! A small effort really can go a long way.