House of Cars Partnered With Avenue 15 Youth Shelter
After the last two years we've had, Christmas 2021 was undoubtedly the MOST anticipated celebration in a while.
However, this past Christmas season wasn't the happiest time of the year for many Calgary youth…
From October 15th to December 31st, House of Cars Calgary and Trellis Society Avenue 15 teamed up to ensure that children going through homelessness also felt joy, hope and Christmas cheer.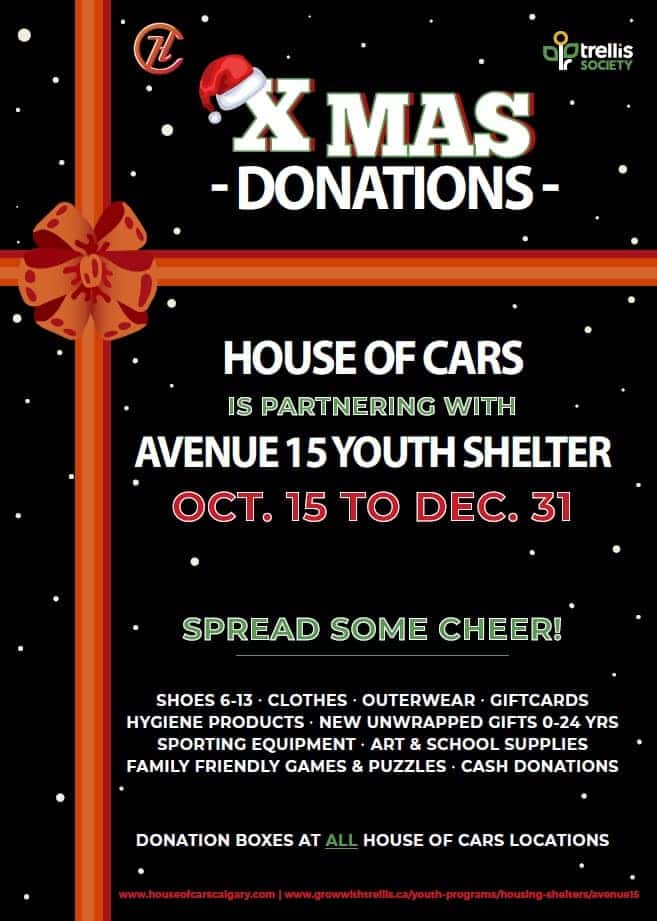 What is Avenue 15
Avenue 15 is a shelter for youth ages 12 to 17 experiencing homelessness due to many difficult situations.
Among providing temporary shelter and basic needs, Avenue 15 also offers:
A comprehensive support system to help youth reunite with their families or find alternative living arrangements.

Family mediation

Support with school

Employment

Money management

Recreation

Healthy living and life skill development
Assistance is available 24 hours a day, 7 days a week, by calling or by walk-in at any time.
A little about House of Cars
House of Cars is a used car dealership in Alberta committed to doing our part to strengthen and unite our community with lasting benefits through multiple charitable programs.
Our team has proudly donated towards community-building programs helping multiple families overcome hardships of all forms.
We see our involvement within our community as a responsibility, meaning our diligent work responding to social and economic needs is far from over.
We're here to support our community when it's needed most.
What was donated?
Donation boxes were stationed at all of the House of Cars locations, where many generous Calgarians offered a variety of helpful and joy-inducing gifts:
Shoes

Clothes

Outerwear

Giftcards

Hygiene products

New unwrapped gifts

Sporting equipment

Art & school supplies

Family-friendly games & puzzles

Cash donations
100% of all proceeds were given to Avenue 15 to be fairly distributed to children in need during the holiday season.
A special thanks
Honestly, Calgary. This effort would not have been successful without your big hearts. Together we helped make a difference for those experiencing unique trials and tribulations.
A special thanks to all of those who extended a helping hand in any capacity. 💚
How can you help, too!
The Christmas season may be over, but it isn't too late to give a little or a lot (even a little goes a long way). Unfortunately, children experiencing hardships happen all year round. Click here to learn more.
If you need a bit more time to help out, we'll see you at any of our House of Cars Locations during the 2022 Christmas season!
Thanks again, Calgary! Happy New Year!