Auto Tips – How to Check a Used Car Before Buying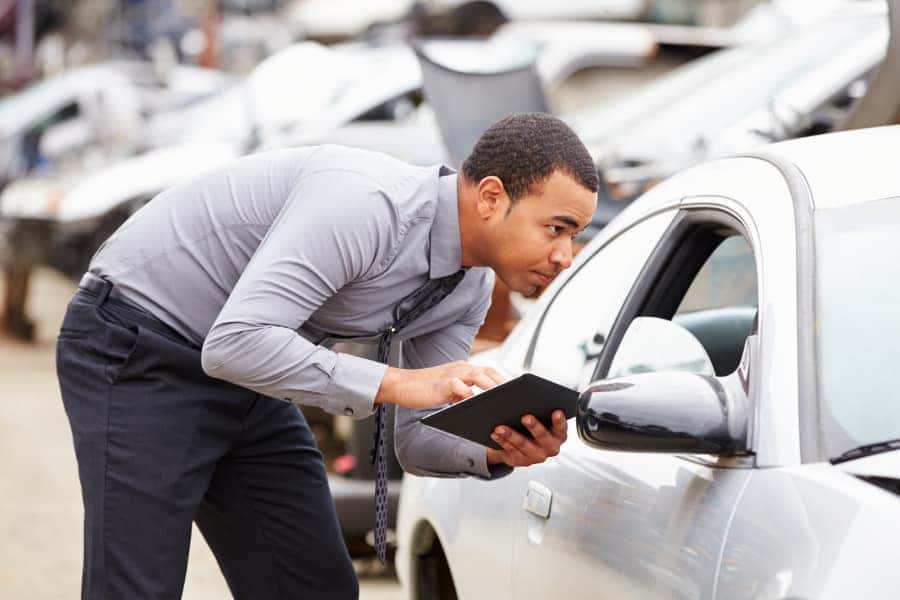 Buying a pre-owned vehicle is a great way to shave some numbers off the sticker price of your dream car, but if you don't know how to check a used car, you could get stuck with a lemon. This is especially true when buying a used car for sale by owner.
Purchasing a used car with hidden damage can be costly for an unsuspecting buyer. To avoid making a bad deal here are all the things you need to look for when you go to buy a pre-owned vehicle.
Check the Exterior
Before you begin to check the car you should make sure that it is on level ground. This is so that you can ensure you will be able to see if there is anything sagging on the car or if there are any problems with the tires.
Paint Job
Next, you should inspect the paint job of the vehicle and take notes of any dents, scratches, and rust spots. Be sure that you look at the sides of the car to see if they look wavy. This indicates that the car has had paint work done.
Tires
The tires of the vehicle will also need to be checked to be sure that they match and are worn evenly. You should also inspect for bad alignment called feathering. It can be caused by steering components, potholes, or frame damage.
Frame
In addition, you need to inspect the frame of the car. The saddle connects to the top of the radiator and should be welded or bolted into place. You should inspect these bolts for scratch marks that would indicate replacement fenders or realignment after damage to the vehicle from an accident.
Underbody
This may be a bit more difficult to assess, but to be sure that the car is in good shape all around, you will need to have it raised and inspected for under-body rust or problems with the exhaust system. If you see any black spots on the exhaust parts, this can indicate a leak is present.
Other ways to recognize a faulty exhaust system include turning on the vehicle and looking for a white vapor, this is a bad sign. You can also use your finger to check the exhaust. If it is covered in a greasy grime then there is a serious problem.
While the car is lifted, this is also a great opportunity for you to check the vehicle for damage to the undercarriage.
Check the Inside
If you don't know how to check a used car, one often overlooked part is the trunk. You should open it and be sure that it doesn't have any signs of water damage or rust from cracks or holes.
Under the Hood
The first thing you should look for under the hood of the car is dents, damage, and rust. They can be signs that the vehicle you are considering has been damaged in an accident or poorly taken care of.
In addition, you should be able to find a sticker with the VIN number under the hood of the car. If it isn't there ask the salesperson, VIN sticker placement depends on the manufacturer.
You will also need to check the hoses and belts to ensure that they don't have any cracks. In addition, the radiator hoses should be felt to make sure that they aren't soft this is an indication of a problem.
Next, you will inspect the engine to see if it has any leaks or corrosion. Look for dark brown oil stains that would indicate a leaky gasket. You should also make sure the brake fluid reservoir is not leaking.
Now you need to remove the oil filler cap to make sure that it doesn't have a foam residue on the inside. If it does, walk away immediately.
You should also pull the transmission dipstick and make sure that the fluid is pink or red. If the car is older it may be darker, but it should never look or smell burnt and should always be full.
The final thing you need to check under the hood is the timing belt. It is the most costly belt in the engine to replace and so it should be inspected. If the car you are looking at has a steel timing chain, you won't need to worry about this.
The Interior
Inside the car, the first thing to look for is tears, rips, stains, or other damage to the leather or upholstery. You will need to decide how much wear you are willing to deal with.
Next, make sure that the air conditioner in the vehicle is working well. If you live in a hot climate, during summer having working AC is a necessity. It is up to you if you can live without it.
Now you need to check the mileage on the vehicle. Be sure that you also take into account the age of the vehicle when considering its mileage. A ten-year-old car with low mileage is not often going to be a good thing.
How to Check a Used Car – The Test Drive
Taking a test drive is extremely important part of how to check a used car. The first thing you should do is press the brakes hard enough to decelerate quickly, but not hard enough to cause the car to slide. You shouldn't hear any strange noises or feel any vibration from the brakes.
If possible, get the car up to 75 mph to check for slight trepidation. If there is a problem it would have most likely also been indicated in the wear pattern on the front tires.
Finally, make a 90-degree turn as the last part of how to check a used car. You will be listening for clunking sounds while this is done at a low speed. Any noise would indicate that joints need to be changed.
Finding the Right Used Car
Buying a great used car isn't that difficult if you take your time and learn how to check it for faults.
Simply choose a trustworthy car dealership. Be sure you check the vehicle's condition thoroughly and take it for a test drive before you purchase it.
If you are ready for a new set of wheels contact us today. We have over 400 vehicles available so that you can find the right one for your needs.